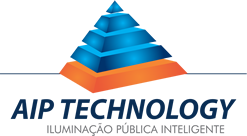 O sistema AIP é a Automação do processo de gerenciamento da Iluminação Pública.
Foi desenvolvido para ser o "state of the art" deste segmento, podendo substituir totalmente ou parcialmente o sistema de "Call Center", realizar o controle remoto das lâmpadas, efetuar cálculos complexos através de processamento de dados avançados e muito mais.
Em sua essência é um sistema "on line" em tempo real, para a captação de eventos e envio de comandos remotos, totalmente comandado por uma interface gráfica, via WEB, onde o usuário pode gerenciar com precisão e eficácia todas as variáveis envolvidas.
Arquitetura do sistema: